biuro@adaso.pl
+48 22 6786559
SKUPUJEMY PUSTE TONERY
ADASO - Marywilska 34, 03-228 Warszawa | pon - pt 8:30 - 16:30
SEND US YOUR PRINTER CARTRIDGES AT NO COST
We collect toner and inkjet cartridges at our collection point at ul. Marywilska 4 in Warsaw. Outside of Warsaw we collect cartridges by courier company or by means of our own transport. Payment in cash or by bank transfer
In order to send your cartridges at our cost, the value of cartridges in the package must exceed 50 zł (about 11€ ). Sending by our courier is possible only in Poland
If you would like to send a parcel from outside of Poland, please contact us in advance.
Order a courier FEDEX:
You can independently send off for a courier from the FEDEX courier company. Just call or fill in an online form

Mobile: 22 211 80 00
Landline: 801 002 800

online form
www.fedex.com/pl/domestic-services/pickup.html

Customer ID 535957453

The mass weight of a single package cannot exceed 30 kg
Shipping info:
Delivery address: ADASO, ul. Marywilska 34, 03-228 Warszawa

Please include in parcel:
e-mail address, telephone number, bank transfer details (owner of account, account number), consent to the processing of personal data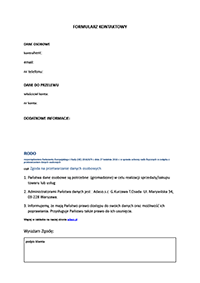 If you wish to receive a Waste Transfer Note or make out an invoice for the cartridges sent, please add the following information:
a) Name of company
b) Full adress
c) VAT
d) REGON

Make sure that the parcel is well secured, to avoid damage during transport (use original air bags, bubble wrap or partitions etc.) Please do not send single cartridges packed individually in original packaging, as this uses up too much space and generates additional costs of delivery.
Pallet Transport
In case of a large amount of parcels, it is worth considering sending your cartridges on a pallet.However, please contact us beforehand. The transport of pallets can only be ordered from our company headquarters.
Quick payment
Payment for the received cartridges takes place immediately (usually one day after their verification) and up to 10 working days at the longest upon our receipt of the delivery. Payment for the purchased cartridges is carried out in the most convenient form for the customer, indicated in the collection of cartridges form or included in information sent in the parcel. Companies and institutions - after receiving and evaluating the technical state of the cartridges, we will send an enumeration, which will serve as the basis for making out an invoice or debit note by the seller.
TERMS AND CONDITIONS OF PURCHASE
We buy only OEM laser and inkjet printer cartridges and drums which have not been previously regenerated/ reworked. We also buy exhausted ink cartridges that have been regenerated and are quoted on our price list.
The cartridges intended for sale must be in good technical condition, that is, carry no signs of mechanical damage (cracks, dents, holes made by drilling, damaged tape and nozzles in ink print heads etc.)
For cartridges and drums not included on our purchase price list, we charge an extra fee for utilization - 8 zł/kg. Please do not send us any remanufactured, refurbished, worthless and damaged cartridges without any prior agreement.
ADASO
ul. Marywilska 34, 03-228 Warszawa
Monday - Friday | 8:00 - 16:00
tel. +48 22 6786559 | tel. 22 6784182